I've never posted about a giveaway on my blog, but I really really really want to win this one!
Ladybug is giving away a SUPER cute Dr. Seuss blog design and I would LOVE to use it to make a classroom blog if I win. :)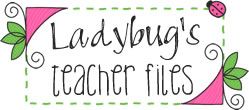 Click on the above graphic to check out Ladybug's blog and "follow" if you don't already! She has some AWESOME resources and ideas.